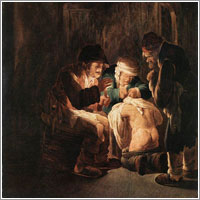 Etiquette is dependent on culture; what is excellent etiquette in one society may shock in another. Etiquette evolves within culture. The Dutch painter Andries Both shows that the hunt for head lice (illustration, right), which had been a civilized grooming occupation in the early Middle Ages, a bonding experience that reinforceed the comparative rank of two people, one groomed, one groomer, had become a peasant occupation by 1630. The painter portrays the familiar operation matter-of-factly, without the sarcasm this subject would have received in a 19th-century representation.
Etiquette is a topic that has occupied writers and thinkers in all sophisticated societies for millennia, beginning with a behavior code by Ptahhotep, a vizier in ancient Egypt's Old Kingdom during the reign of the Fifth Dynasty king Djedkare Isesi (ca 2414-2375 B.C.). All known literate civilizations, including ancient Greece and Rome, developed rules for proper social conduct. Confucius included rules for eating and speaking along with his more philosophical sayings. Early modern conceptions of what behavior identifies a "gentleman" were codified in the 16th century in a book by Baldassare Castiglione, Il Cortegiano ("The Courtier"), which remained in force in its essentials until World War I. Louis XIV established an elaborate and rigid court ceremony, but distinguished himself from the high bourgeoisie by continuing to eat, stylishly and fastidiously, with his fingers.
Baldassare Castiglione, Benjamin Franklin and George Washington wrote codes of conduct for young gentlemen. The immense popularity of advice columns and books by Miss Manners shows the currency of this topic. Even more recently, the rise of the Internet has necessitated the adaptation of existing rules of conduct to create Netiquette, which governs the drafting of email, rules for participating in online forums, and so on.
The outward adoption of the superficial mannerisms of an in-group, in the interests of social advancement rather than a concern for others, is a form of snobbism.